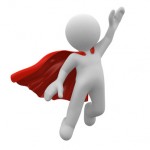 Can you leap tall buildings in a single bound?
Unless you're Superman, you need a Resume.  And, that resume needs to convince prospective employers that you are a Super Hero or at least that you are one of the few people worthy of an interview.
What is a RESUME?
According to Answers.com's dictionary, a "resume" is "a brief account of one's professional or work experience and qualifications, often submitted with an employment application."
To take that a little further, "a resume is a document presented by a job applicant to a prospective employer outlining and summarizing that person's qualifications for employment.  A resume generally includes data on education, previous work experience, and personal information, and well-crafted ones are composed in such a way as to maximize the applicant's attractiveness as a potential employee."
"…maximize the applicant's attractiveness as a potential employee"
Your goal in creating your resume should be to do just that.  To be a winning resume it has to maximize your attractiveness.  Unless it does that, it is NOT a winning resume.  And, it won't help you get the interview that could lead to your next job.
Since your resume will be your representative to prospective employers and it will likely be seen by considerably more employers than you will, it is worth the investment required.
OK.  So, you're not a Marketing expert…..
Many of the people looking for employment due to the economy are NOT marketing experts.  And, we understand that creating a marketing document won't be easy.  So, we'll help.  But, you need to commit to completing the process.
But, I already have a Resume…
That's fine.  And, if you believe you have the best possible resume, Click HERE to go to the next step.  Otherwise, you should just keep going forward with this process.  But, unless your existing resume has already gotten you the interviews you want, you should consider following our guidance.
If you're still reading, we assume you are NOT Superman and you need a Resume
Before you start, you need to understand that this is NOT a simple or quick process.  You will need to spend time gathering information, analyzing what you've done in your career and then drafting, proofreading and editing a marketing piece that will convince the reader that you ARE superman – even if you're not.
Understand that it's Marketing Material – NOT JUST a Resume
You have to have a different mindset.  You need to understand that what you are developing is marketing material.  And, the product you're marketing is YOU.
To write an effective marketing piece, first you need to understand the "product." And, you may not actually know the "product" as well as you think.  So, you're going to have to do some background work.  And, you'll have to get organized.
The "Ground Rules" of the Game
Before you start working on the marketing material, there are a number of ground rules you need to keep in mind:
With employers receiving hundreds (or thousands) of applications for every job opening, you are fighting for attention. And, you have roughly 15 – 30 SECONDS to convince a prospective employer that you are the right candidate for the job.
You will need more than ONE marketing piece – tailored to the job or employer.  So, plan ahead so that you can easily modify the document based on the prospective employer or job for which you are applying.
Click on the page in the list (below)  or Click on the Green Arrow to Get Started.
Start by clicking on an Item Below