Mourn and Move On – Step 1

Transition is the first real phase of the process of finding a new job. And, in this case, we're speaking about the psychological transition out of your old job.
This is a CRITICAL part of the process. You can choose to ignore this process – but, you will likely regret it later.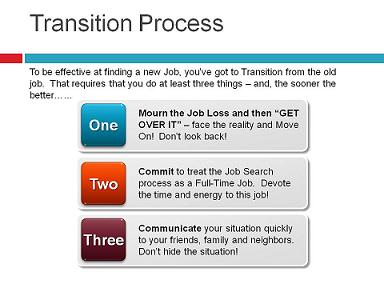 Step ONE
In case you haven't realized it yet, losing a job can impact you like losing a loved one. You need to mourn the loss of your job. And, you need to do that in whatever way is appropriate for you. But, you need to get that out of your system because you have to be able to MOVE ON without the baggage associated with your old job.
If you have access to them, you can get some professional advice on how to handle this; but, the best we can offer he is probably what would otherwise be described as TOUGH LOVE.
MOURN! GET OVER IT! DEAL WITH IT! DON'T LOOK BACK!
Do NOT, under any circumstances, keep thinking that your employer will eventually come to its senses and bring you back.
Unless you are subject to a possible re-call if your factory needs you, you simply need to move on.
Click on the GREEN Arrow to go to the Next page

Print This Page